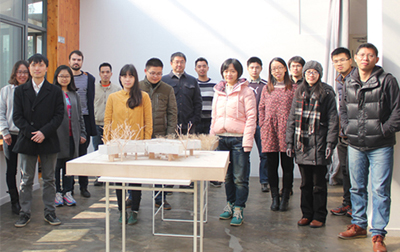 Scenic Architecture Office was founded in Shanghai in 2004. We always start with needs from body & mind, nature, and society, and try to establish a balanced and dynamic relevance among them through ontological orders composed by space-time and tectonics. In recent practice we concentrate on exploring potentiality of settlement space in present life, to seek a new identity for contemporary architecture between Chinese tradition and our future.
Founded in 2004, Scenic Architecture Office is an atelier based in Shanghai China with 20 architects. The works of Scenic Architecture were widely published by international and local professional media, and were invited to various international architectural exhibitions including Shanghai Urban space art season(Shanghai,2017),China Contemporary at NAI (Rotterdam, 2006), China Design Now at Victoria & Albert museum (London, 2008), Contemporary Chinese Architecture at Cité de l'architecture et du patrimoine (Paris, 2008), Architopia at CIVA (Brussels, 2008), Shenzhen Biennale(Shenzhen, 2007 & 2009), New Trends of Architecture in Europe and Asia-Pacific(Tokyo, Barcelona, Istanbul etc., 2008-2010), "Un-Natural" at BCA (Beijing, 2009), 2010\2014 Venice Architecture Biennale (Venice,2010\2014), Chengdu Biennale(Chengdu, 2011), Hong Kong Biennale(Hong Kong, 2011), Milano Triennial (Milan,2012), "China Design Grand Exhibition" (Shenzhen,2012),2013\2015 Shanghai WestBund Biennale (Shanghai,2013\2015) and "Eastern Promises – Contemporary Architecture and Spatial Practice in East Asia" (Vienna,2013). the ZAI XING TU MU- Fifteen Chinese Architects exhibition Aedes (Berlin 2016),Towards a critical pragmatism : contemporary architecture in china(Harvard university GSD), Recent works include Pudong Youth & Children's Center and Mass Art Center, Shanghai Science & Technology University Affiliated School, Vanke Art Center, Lattice Book House, East China Normal University Affiliated Bilingual Kindergarten, Huaxin Exhibition Center, ZhuJiaJiao Museum of Fine Arts, Dashawan Beach Facilities, Victory Street Neighborhood Committee and Oldies Daily-Care Center, Jintao Village Pavillion, The Green Pine Garden, Vanke Holiday Town Community Center, Sunrise Office Building, New Hongqiao Holiday Express Hotel, etc.
Mr. Zhu got his master degree of architecture from Harvard University Graduate School of Design, and bachelor degree in Architecture from Shenzhen University. He founded Scenic Architecture Office in Shanghai in 2004. He taught in Tongji University as guest critic since 2012.Mr. Zhu won "40 under 40" award for 40 leading young designers in Asia Perspective in 2008 and he was in the finalist of "China Architecture Media Award" Young Architect Award. The project Zhujiajiao Museum of Humanities & Arts was the winner of "UED Museum Design Award " in 2011 and in the finalist of "China Architecture Award" in 2012. The project Huaxin Exhibition Center won "Far Eastern Architectural Design Award" Highly Commended Prize, Architizer A+ Award and WAACA WA Technological Innovation Award in 2014.The project East China Normal University Affiliated bilingual Kindergarten won WAACA WA Design experiments Finalist Award and 7th ASSC Architectural Design Award, the project Suzhou Qianxun Community Center won "Archdaily China Architecture in 2018" Grand Award.